We Heart The New FiveThirtyEight Website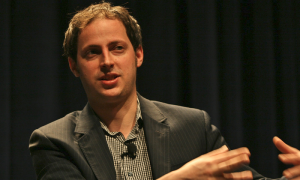 We all know that Nate Silver is a datasmith who has gained popularity and credibility in recent years for his published analyses and predictions of the 2008 and 2012 presidential elections.
What we love Nate for today is his newly redesigned FiveThirtyEight website. There is a ton to love about this website, especially for us web designers (and data nerds) with a penchant for everything political and sports.
However, we thought it would be inspiring to showcase five elements of the website itself that truly demonstrate how cutting edge and terrific this website is. Here we go.
FiveThirtyEight Is Fast
Most folks would overlook the load time of a website, unless said website is loading particularly slow. Search engines have used website speed as a critical factor in search engine optimization for a few years now, and we agree that page loads are an essential aspect to usability.
On our initial visit of FiveThirtyEight, our page load times averaged about 0.382 seconds. That's pretty darn fast. Nowadays, any page that takes over a second to load is considered slow. It looks like FiveThirtyEight is using a good combination of cache, particularly from the WordPress Plugin Batcache.
FiveThirtyEight Is Built In WordPress
WordPress is a terrific choice for this blog, and we're happy that Silver chose to build FiveThirtyEight using WordPress. WordPress is very well supported, is open-source, and is a great backbone to build later standard CMS functionality into, so that's a win win for everyone.
WordPress utilizes code that is lean and mean, and is therefore extremely user-friendly. Plus, it looks like they chose to use WordPress.com as their host, which simplifies the hosting aspect of WordPress tremendously.
FiveThirtyEight Is Responsive
Responsive websites help to make websites function well on the plethora of combinations we have with so many mobile devices, desktops and laptops of various screen size and operating systems.
Core usability is always something to remember when designing responsive websites, so that navigation, layout, and content structure is not too convoluted and confusing.
When in doubt, keep it simple stupid.
Awesome Main Menu Design
It's no surprise that we as web designers love fantastically designed websites, especially ones with unique menus. The main menu on the FiveThirtyEight website is no exception to how simple, yet awesome, you can design a menu.
Each main section has a different corresponding color. As you roll over each main heading, you get a simple drop down that includes a featured image with the most recent article from that subject, and two additional recent articles before a link directing you to read more articles from that section.
Each new post for any given subject will cycle down the previous article, and so on. Simply brilliant. Plus it gives a nice visual feel to the menu, which is an area that tends to be very text heavy on most websites.
FiveThirtyEight Is Social
From the ability to easily share articles on Twitter and Facebook, to having the FiveThirtyEight twitter feed on their sidebar, Silver has made sure that the amazing content that us data geeks love can easily be read and shared on our favorite social media.
Social media isn't going anywhere anytime soon. So it remains a perfect avenue for further spreading out marketing ideas and concepts.
Well, that's our take.
What's yours?
Leave your insight about the FiveThirtyEight website in the comments below.

Comments
Related Posts
Trends
Tutorials
Awesomeness
More Goodness Similar To We Heart The New FiveThirtyEight Website
Enjoy These Trends Similar To We Heart The New FiveThirtyEight Website
Popular Tutorials From Our Archives
Cherish Some Classic Alphabetix Awesomeness