Happy 4.04 Not Found Day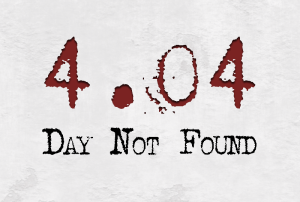 Today is April 4th, or otherwise known as 4.04, which just happens to be the 404 HTTPS error status code for a missing page.
We know what you're thinking, that is a very geeky thing to celebrate, right? Maybe, but we coders like to have some fun with our 404 pages.
The W3C outlines a 404 Code as:
404 Not Found
The server has not found anything matching the Request-URI. No indication is given of whether the condition is temporary or permanent.

The 410 (Gone) status code SHOULD be used if the server knows, through some internally configurable mechanism, that an old resource is permanently unavailable and has no forwarding address.

This status code is commonly used when the server does not wish to reveal exactly why the request has been refused, or when no other response is applicable.
No matter what, we developers like to play around and design unique 404 error pages when we work on website development projects.
Of course, we have our own custom 404 page that you can see for yourself as well.

Comments
Related Posts
Trends
Tutorials
Awesomeness
More Goodness Similar To Happy 4.04 Not Found Day
No Related Posts Yet!
Enjoy These Trends Similar To Happy 4.04 Not Found Day
Popular Tutorials From Our Archives
Cherish Some Classic Alphabetix Awesomeness