The Importance of Website Navigation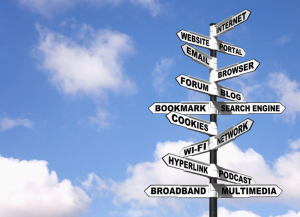 How your website is navigated is often overlooked when you're focusing on the aesthetic of your site. It's not sexy, but it's essential. If your visitor needs a Garmin to get around on your site, they won't be a visitor for long.
How Many Clicks Does It Take to Get to the Center of a Tootsie Roll Pop
If it takes a visitor more than 3 clicks to get to the content they want on your site, you're doing something wrong. Your navigation should have a simple nesting structure, but anything deeper than 3 clicks in, is just too far to keep their attention. So, if you are a salon that offers hair coloring with foils, you could have a structure like this:
Services|Coloring|Foils
But, if you add a layer in, it will be too hard for people to get what they want:
Services|Hair|Coloring|Foils
That's way too cumbersome. Two clicks is even better than three.
It's Broken
Broken links are one of the worst things you can have on your site. They greater affect the user experience and not in a good way. Make sure your links are all in tip-top shape.
Primary and Secondary
Good site navigation doesn't just guide you through the site in one way. Good sites will guide you through the site with both primary and secondary navigation. Also, footers are a great place for navigation. Not everyone wants to navigate in the same way. Give them options.
I Can't Find It
Give your visitors the often to search on your site. Sites without search can often turn off people who prefer a more direct method of finding what they are looking for.
Ask yourself this, does Amazon only give people one way to find things on their site? Does Staples allow you to search for products? Does Apple take you to broken links on their site?
How can you apply those principles to your own site?

Comments
Related Posts
Trends
Tutorials
Awesomeness
More Goodness Similar To The Importance of Website Navigation
Enjoy These Trends Similar To The Importance of Website Navigation
Popular Tutorials From Our Archives
Cherish Some Classic Alphabetix Awesomeness