5 Signs You Got Burned by Your Web Designer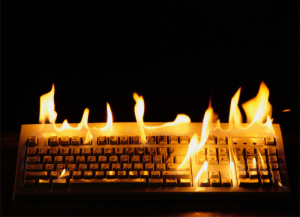 All too frequently we get calls from potential clients who have already had a website designed by another "designer", but are feeling the burn. Before you have a website built, consider these things.
1. They Never Discussed Content
Any web designer that doesn't talk to you about the content on your website is doing you a major disservice. Content is an essential part of a good website.
2. They Built Your Website Entirely in Flash
A little bit of Flash can go a long way, but an entire website built in Flash can be a disaster for search engine optimization. Google, Yahoo, and Bing can't read Flash, so they can't crawl your site for important key words. And, that means, people aren't going to be able to find you. You're much better off with a site built with HTML and CSS.
3. They Disregard Web Standards
Web standards exist for a reason, and that reason is they ensure that your website will function correctly in most internet browsers, including the most popular ones like Mozilla Firefox, Internet Explorer, Google Chrome, Opera, and Safari. If your site doesn't validate, then it might not show up the way you want it to.
4. They Pay No Attention to SEO
Sure, there are lots of pretty websites out there, but can anyone find them? Search Engine Optimization is essential for any worthwhile website, so if your designed doesn't discuss with you what they do to optimize your site, then you should find someone else.
5. They Have No Clue About ADA Accessibility
Not everyone can use the internet in the same way. Having your website be ADA accessible ensures that everyone can use your site. You wouldn't send a person with a disability away from your brick and mortar store, so why send them away from your website?
Before you get going on a website, make sure your web designer knows what they're talking about. And, if you've already been burned, we can fix it.

Comments
Related Posts
Trends
Tutorials
Awesomeness
More Goodness Similar To 5 Signs You Got Burned by Your Web Designer
Enjoy These Trends Similar To 5 Signs You Got Burned by Your Web Designer
Popular Tutorials From Our Archives
Cherish Some Classic Alphabetix Awesomeness